KOLKOVNA CELNICE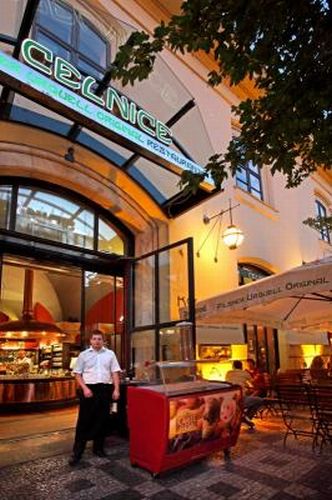 V celnici 4, 110 00 Praha 1
Opening hours: daily 11:00-24:00
Capacity:
Czech and international cuisine
The history of foundation of Kolkovna restaurant chain dates back to the 90th when a group of Czech gastronomists decided to seek for suitable premises where they can re-alive the traditional Czech cuisine. Once the premises were found, they seek for the strong strategic business partner and the group decided for a join-adventure together with the Pilsner Urquell, which is very stable popular partner and people are drinking its beer for almost 170 years. So here is the perfect combination: clients can enjoy traditional Czech meals, accompanied with great Czech beer while sitting in the very cozy interior. This is the main idea of this chain. Kolkovna restaurants were awarded with many prices and they have many repeating satisfied guests.
Restaurant Celnice was the second opened restaurant of Kolkovna chain; it is located in the reconstructed spaces of Stara Celnice at Republic Square, which is today very popular place within the centre of Prague. They offer many traditional Czech dishes, but as well the international cuisines and some well-known culinary specialties. Donít miss opportunity to try the home-made goulash, typical sirloin in a creamy sauce or just to taste the typical dishes that traditionally accompany Czech beer. Whether you sit inside or you decide to enjoy the outside terrace, you should always feel the same attention and care from a helpful staff. Part of the restaurant Celnice is the Music Club Celnice, located in the basement floor of the restaurant.